Finally, reuse is an option for your business.
Rheaply introduces re-commerce for every business. Save time and money by keeping assets and materials in constant reuse. By combining smart inventory management and connected nationwide marketplaces, Rheaply puts reuse back on the table.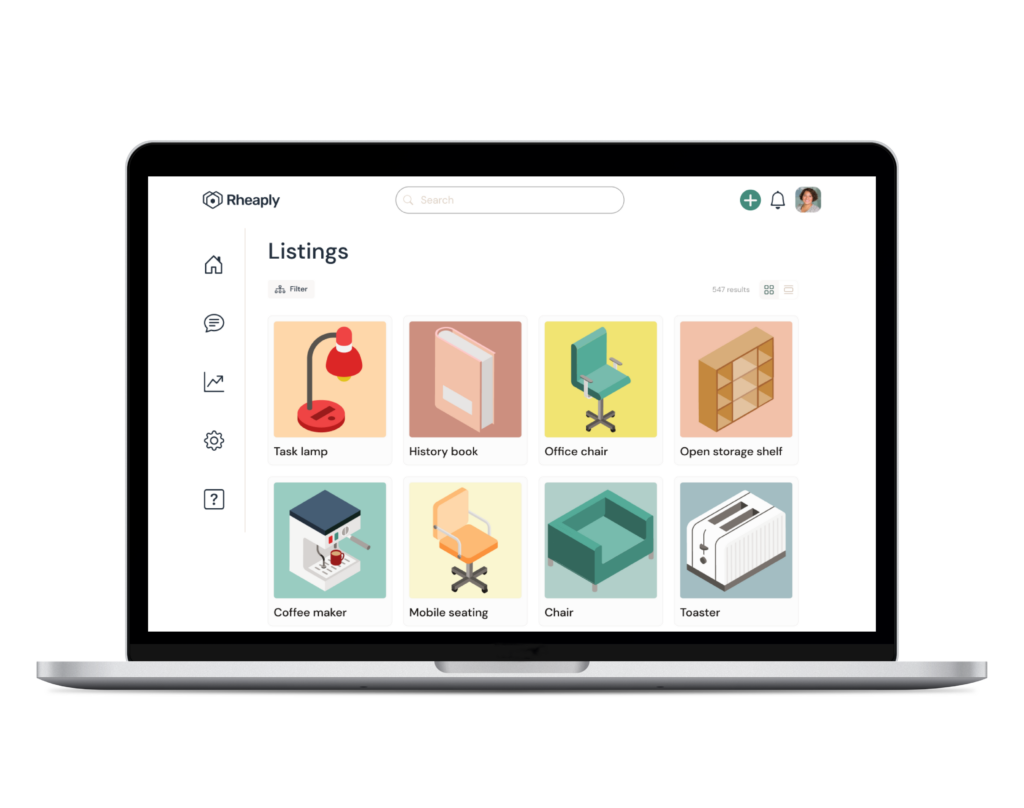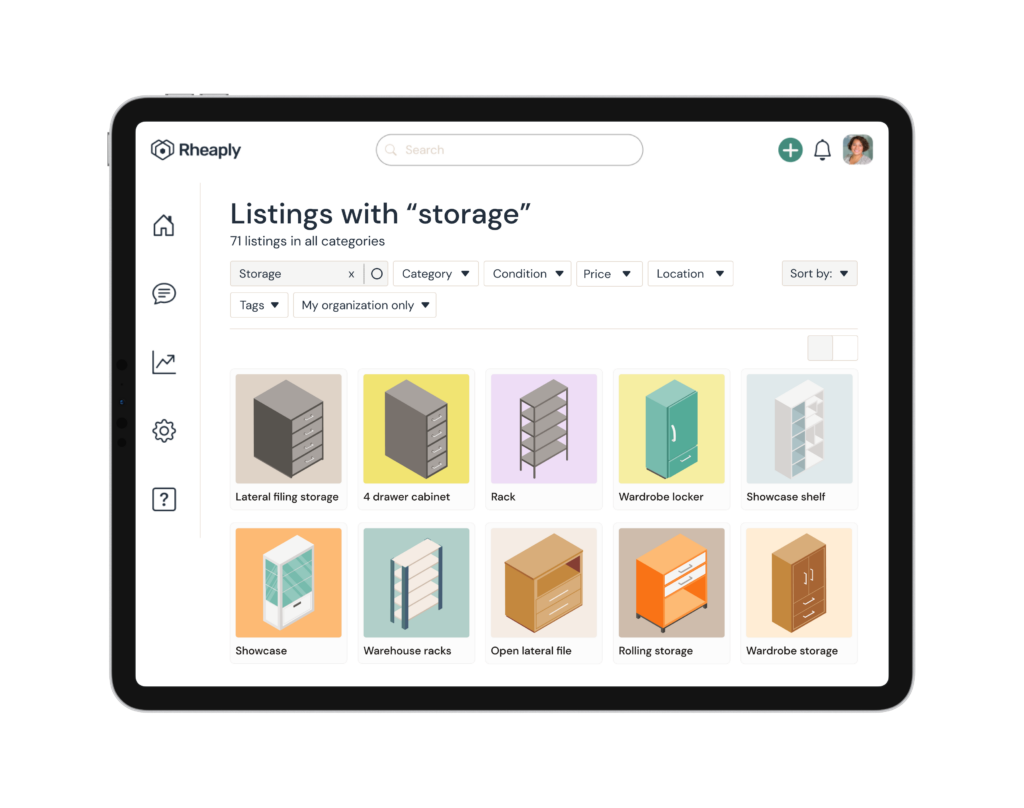 Rheaply is for businesses who want to obtain FF&E quickly and more affordably.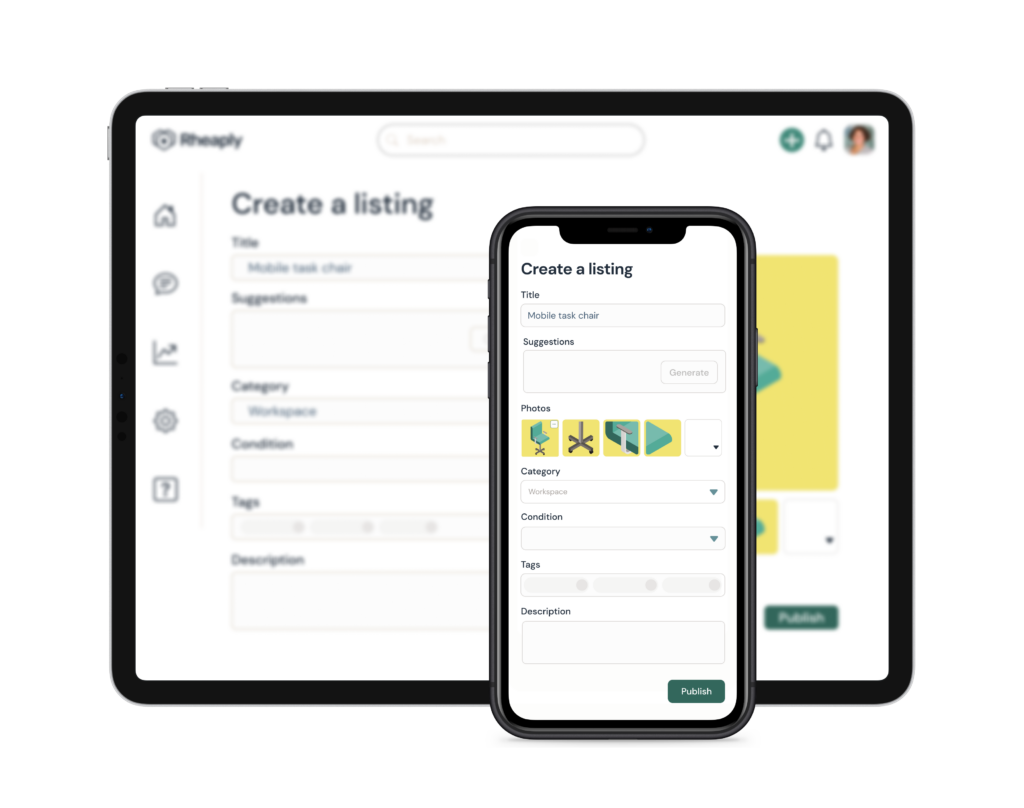 Get rid of what you don't
Rheaply is for businesses who want to redistribute idle assets and materials swiftly and sustainably.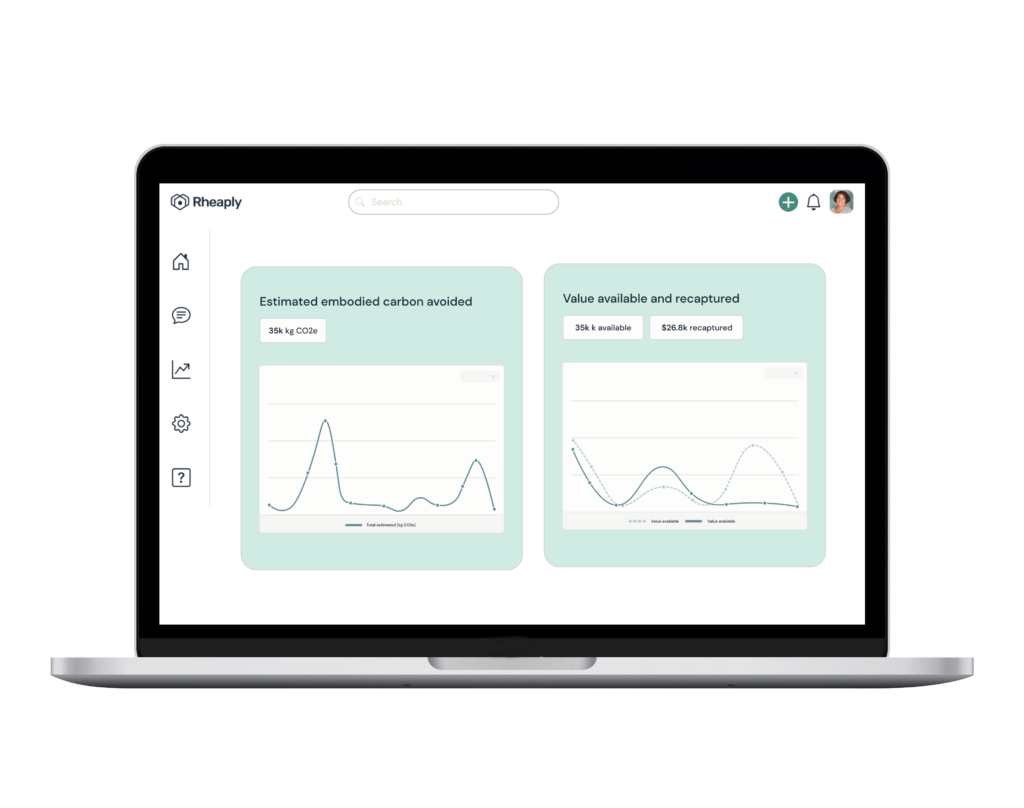 Rheaply is for professionals who are ready to track how reuse can save their business thousands of dollars and keep materials in use for their next life and beyond. 
Shop for reclaimed resources and pre-owned materials
Search and filter to find exactly what you're looking for. Sort, save, and claim items near you to cut down on lead time, shipping costs, and transportation emissions.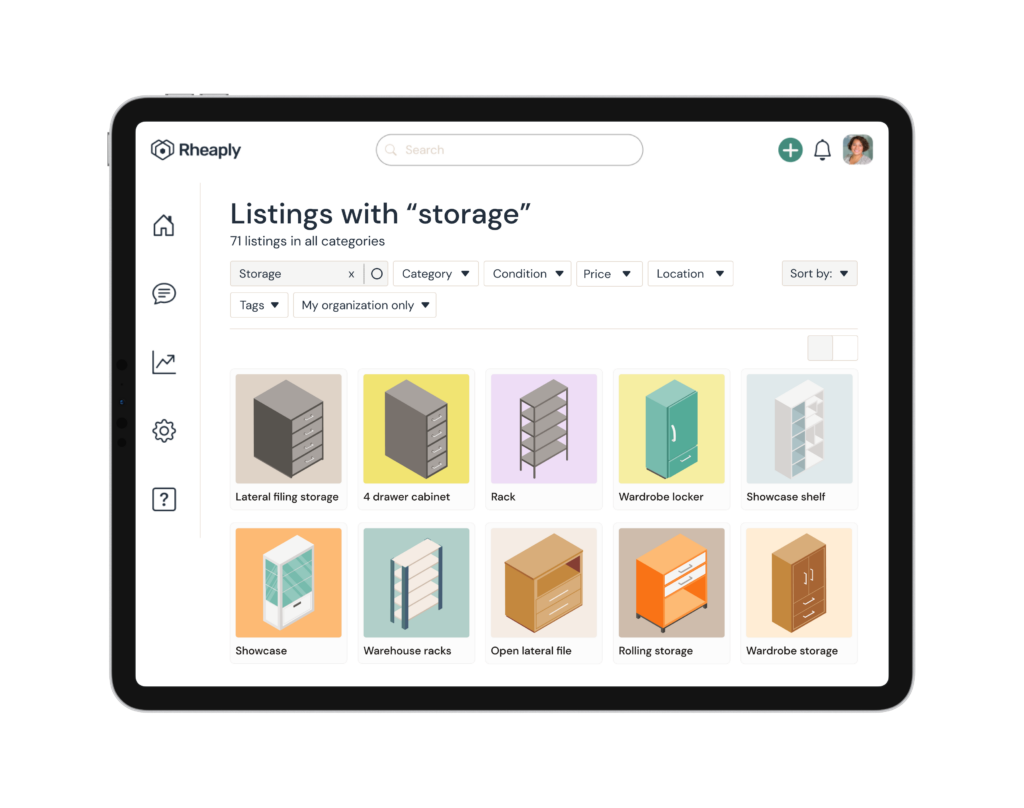 Launch your storefront effortlessly with AI support
List available items, furniture, and building materials to your Rheaply storefront. Simply name the item and our AI robots will suggest weight, description, and replacement cost.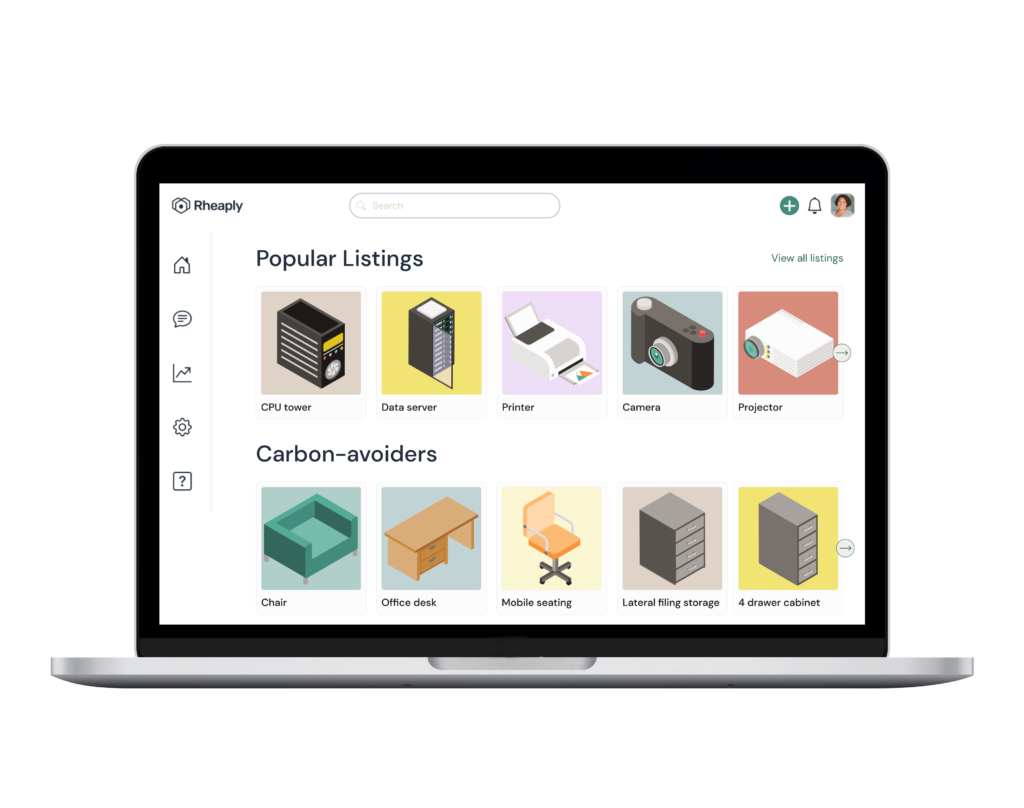 Data and reporting to measure your return on reuse
Access rich impact reports like weight diverted from landfill and embodied carbon avoided. Track cost savings or sales from every resource exchange and watch your reuse solution pay for itself.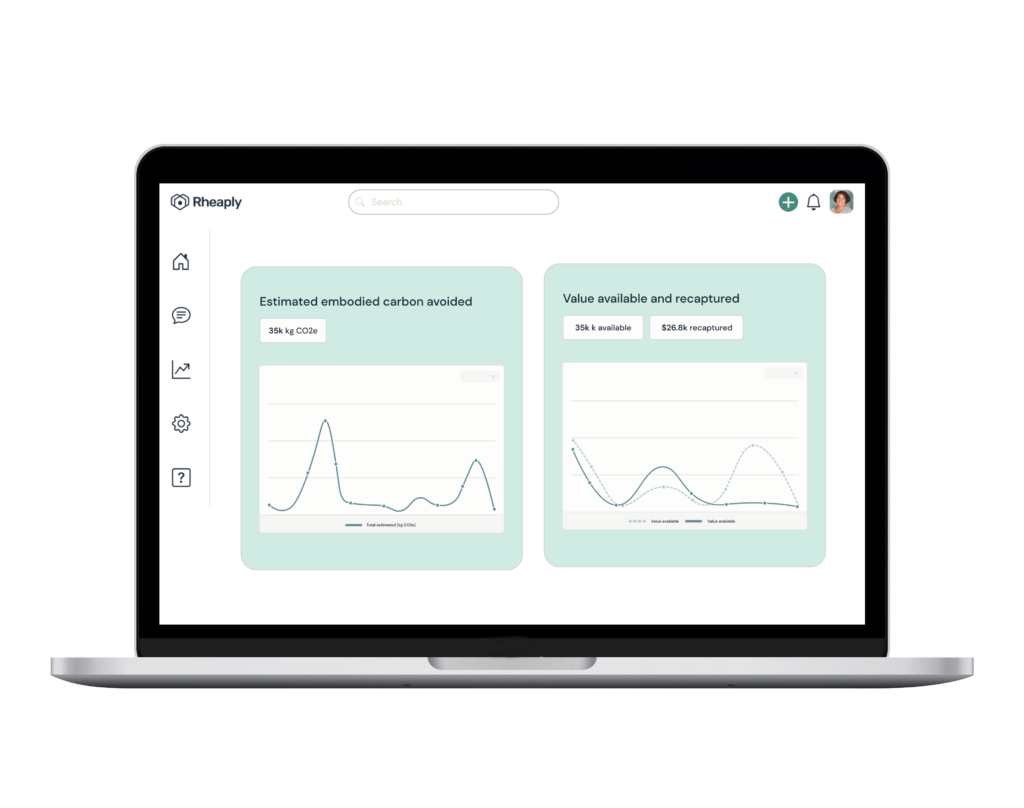 Choose exactly who sees your listings with custom rules and permissions
Control who can see what you have available. Limit your storefront to internal reuse only, or open it up to trusted partners, non-profits, and vendors.
Discover what's available for reuse within your own inventory and make more informed procurement decisions
Add on Rheaply's inventory management tool for full visibility of every asset at your organization. Track advanced details to know what you have, where it is, and the condition it's in.
A reuse solution for every business
Rheaply Public
FREE-to-join
Rheaply Circulate dashboard

Create a storefront for reuse

Browse available items in your area

Public network only
Rheaply Professional
Custom software solution
Rheaply Circulate Pro dashboard

Permissions-based storefront

Permissions-based network

Analytics and network usage data

Case studies and impact reporting
Rheaply Enterprise
Reuse-at-scale
Rheaply Circulate Pro dashboard

Permissions-based storefront

Permissions-based network

Analytics and network usage data

Case studies and impact reporting

Reuse-focused inventory mgmt

Integrated decommission services
"I've been using [Rheaply], and find it very helpful in rehoming quality items that we would have otherwise purchased or disposed of."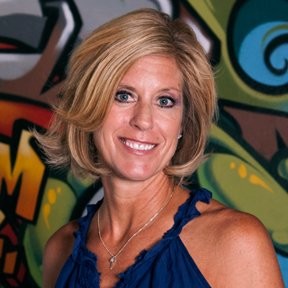 "Rheaply gives everyone the same access to these affordable items. It makes everything visible, accessible to all in a way that we've never been able to do before."
Associate Director of Campus Sustainability & Climate Action
"Rheaply is a fantastic partner to help connect us and other local community organizations with donated office chairs and other decommissioned assets… Rheaply's circularity model is a win-win for everyone."
"Rheaply definitely equipped us to inventory, catalog and move the furniture in a way that we otherwise absolutely could not have done. It made the project accessible instead of seeming like an insurmountable literal landfill."
Sustainability Coordinator
RUSH University Medical Center
Future-proof your business. Talk to our team today.
A vision of circular cities
As a company founded in Chicago, Rheaply understands firsthand how cities are essential players in growing the circular economy.
Discover how your organization can be part of creating re-localized, connected cities to increase its growth potential and expand equitable access to assets and resources.
Connect to a larger world of resources
Catalyze a circular future through reuse and resource exchange.
Work alongside our team to engineer solutions specific to your organization.