A couple of weeks ago a few members of the Rheaply team headed to our 4th Greenbuild in a row, with this year's conference taking place in our nation's capital, Washington, D.C. This year's installment took place in a city where a 4th year of a term can have the potential to be underwhelming, but this year's Greenbuild was far from a lame duck session!
Greenbuild 2023 was a fantastic showcase for sustainable technologies across the built environment; filled with cutting-edge innovations that are disrupting a centuries-old industry. Seeing so many incredible advancements in the construction and demolition industry was sure to excite the many dreamers and do-ers that were walking the expo hall and attending the working sessions.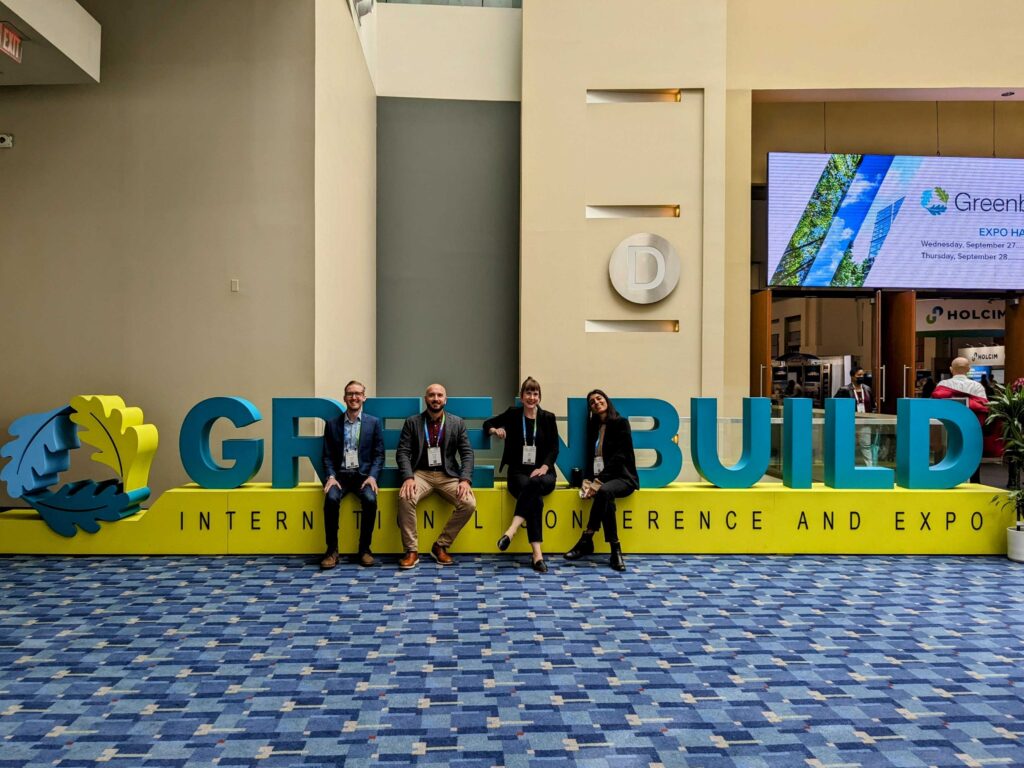 One of the joys of representing Rheaply at an event like Greenbuild is our ability to have a meaningful conversation about reuse with any organization. To build a truly circular economy, many pieces must be connected to build this sustainable puzzle, and Rheaply is right in the middle.
We spoke with representatives from several universities about the great work we're doing with Rush University, transforming their Sustainability Department of only two employees into a powerhouse of reuse within their massive campus in our home city of Chicago. When employees from cities, counties, and other municipalities came to our booth, we were able to explain how Rheaply helps cities like the City of San Antonio facilitate reuse between city departments, as well as enable the reuse of deconstructed building materials from the surrounding community and implement these materials back into building projects around the city. Even healthcare companies were interested in the Rheaply Platform, and we were delighted to share the impact we've facilitated with Allina Health via internal reuse, as well as benefits to the local community that have been made by donating surplus items that no longer had a use within their organization.
A major theme of Greenbuild 2023 was the impact of deconstruction versus demolition. From all over the industry, organizations are changing the way that they think about existing materials in a building that is being decommissioned.
Materials like ceiling tile, carpet, gypsum, and lumber can all be taken from buildings that are coming down, and put right back into new construction. Designers are looking at these materials to inspire their new spaces, and tell a great story while doing it. General contractors doing the deconstruction work are gaining value by lowering their waste costs, and even increasing revenue potential by selling these used materials. Rheaply is aiding in this decommission process by helping facilitate these projects and ensuring as little as possible finds its way to a landfill. Instead, we ensure these building materials make their way into new builds, and any other items and furnishings find a new home as well.
Green buildings and circular cities
All of these initiatives and innovations are an incredibly important part of making our cities more sustainable. Cities are ground zero for the fight against climate change and by creating more circular cities, we can make significant strides towards reaching the climate targets laid out in the Paris Accords. Rheaply is doing our part by facilitating Circular Cities Marketplaces around the country by creating a place for these items to find their new homes. Every carpet tile is looking for a building to be reinstalled, and we're working hard to ensure that organizations looking for these materials can find them, and reap the benefits of reuse.
It's impossible to leave a conference like Greenbuild and not feel invigorated and optimistic for the future of the built environment after seeing the passion and innovation on display in the expo hall. It was our fourth year coming to Greenbuild, and it is truly inspiring to see the growth and momentum that is taking place in this space. Every year, there are more inspiring inventions and creative solutions that will help us all work towards creating a more livable and sustainable planet. Greenbuild 2023 in Washington, D.C was a fantastic event, and we can't wait to see you next year in one of our nation's former capital cities, Philadelphia!